Biological complexity remains the big challenge in drug discovery and development. We strive to address the lack of biological understanding to unlock key unmet medical needs.
The cells and tissues in our bodies work steadily and reliably in the face of constant challenge. This stability comes about because the underlying molecules (such as proteins and nucleic acids) are organised to function in complex, robust networks, giving rise to reliable and predictable behaviour (a phenotype). Even when we develop a disease, the underlying networks remain robust and difficult to change.
Networks are the mechanistic bridge between genotype and phenotype. The complexity of these biological networks is currently not well understood, and the simplification of genome/proteome-phenotype correlations limits the development of highly effective therapeutics.
Our computational platform
Modelling and analysis of biological networks provides a novel approach to drug discovery that explicitly considers the true complexity of biology. By representing, as closely as possible, the biological systems we are seeking to disrupt we increase the likelihood of identifying and developing effective therapies.
Cost of developing a drug
$2.6B
Late-stage failures could be minimised with better drug discovery
Our platform is a combination of integrated large-scale, proprietary and AI-enhanced databases and a suite of powerful computational tools. The novelty of our biology-centred approach, underpinned by integration of multiple disparate data sets, enables the characterisation of currently intractable or undruggable disease processes and the identification of the best "network-aware" intervention strategies.
We have the capability to address key limitations of our industry, including extracting value from big data, addressing complex disease and improving translatability in R&D. We focus on tackling the hardest challenge, which is being overlooked: human biology.
We focus on tackling the hardest challenge, which is being overlooked: human biology.
Identifying disease processes, novel targets and therapeutics
The core of our approach relies on the computational modelling and interrogation of biological mechanisms, moving away from "blind" screens. This is enabled by our integrated, AI-enhanced databases and interactomes. A key proprietary resource is our compound database, which consists of over 15 million compounds with associated experimental bioactivity data integrated from multiple sources. The empirical data in our compound library is augmented via various AI approaches.
We combine our databases with project-specific inputs to generate the desired outputs via a suite of analytics and expert reviews, combining human and artificial intelligence. A key advantage is our ability to triangulate outcomes obtained via different workflows, increasing confidence in our predictions. For example, in a target identification project for a biologics therapeutic approach (e.g. siRNA), we leverage our small molecule library as a tool to run impact analysis on our network models.
Our computational platform can generate a variety of outputs, depending on the biological question asked. Importantly, all outputs are mechanistic in nature and linked to the underlying biology of interest rather than purely statistic.
Our in silico Discovery Engine
Interpreting omics data to derive actionable insights
Our computational platform enables us to make sense of complex datasets, creating actionable insights from omics data by placing genes in the context of the biological networks they belong to. This allows us to identify key disease-related biological processes and pathways that can support superior target identification.
We use our proprietary approaches to run perturbation analyses, explicitly considering the importance — not just the presence — of specific molecules within a network. This serves as the foundation to analyse omics data (including population genomics data, transcriptomics, proteomics, etc.) to identify therapies, targets, diagnostics and biomarkers and to segment patient populations. Our segmentation approach is mechanistic and enables network-aware in silico modelling of different endotypes of interest at the initial stage of the discovery process.
Our in silico lab produces industry-leading predictions
Our in silico screens generate predictions on compounds and/or targets that can have a significant perturbative effect on the biology of interest, captured by our network models. Experimental verification of our impact ranking follows, using relevant cell-based assays reflecting the modelled biology.
Our computational predictions have been validated in the laboratory and across a variety of therapeutic areas, demonstrating our ability to assess millions of therapeutic hypotheses in silico with greater accuracy than standard drug discovery processes. This translates into significant time and cost savings.
100–1,000x
hit rates in small molecules
The computational enrichment for high-confidence therapeutic hypotheses markedly reduces the number of targets and compounds that need to be assessed in the wet lab, enabling the use of sophisticated and highly representative assays that maximise translatability. This helps avoid costly late-stage failures.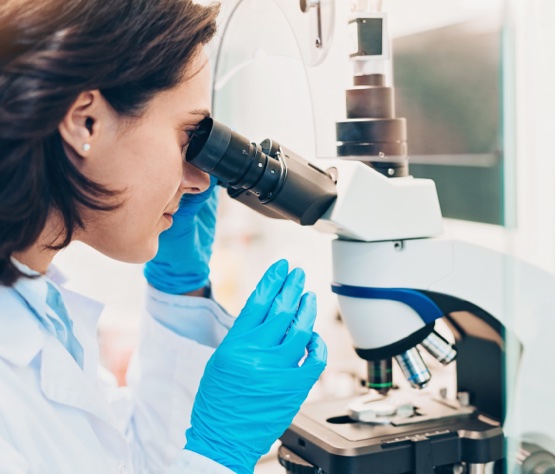 Our in silico network models allow us to assess the impact of potential therapeutic interventions in the human biology of interest, enabling us to rank compounds ahead of experimental testing.